Are you facing a water damage removal or fire damage repair crisis? Or just a leak problem? In Moreno Valley, California you can turn to Cutting Edge Construction. Our professional experience, expertise, and special equipment means we can properly restore your home, with less stress, time, and worry for you. Cutting Edge Restoration specializes in water damage restoration, fire and smoke damage removal, and mold remediation. We provide fast response flood removal service to all Moreno Valley and surrounding communities 24 hours a day, 7 days a week.
Our technicians are local in order to provide a fast, efficient response to your call. And they're IIRC certified. We're fully bonded, licensed, and insured contractors. We've worked with homeowners, businesses, management firms, and insurance companies to build a sterling reputation. All of our technicians are experienced in Insurance claims. We'll help you with your claim, and make sure that all work meets the insurance company's requirements. Going with Cutting Edge, we won't add financial stress on top of everything else.
Even water damage remediation from comparatively minor plumbing problem is best handled by an expert. For anything other than a minor spill, mopping or a wet-vac just won't do it. Water can penetrate deeply and sooner or later lead to discoloration, mold, warping, and more. Fire damage remediation can be even trickier. Smoke and soot can penetrate into places you'd never imagine. There are just too many health and building issues for the inexperienced to take care of.
Few companies serving Moreno Valley are fully qualified. Cutting Edge is a certified restoration specialist. Our training, experience, and state of the art equipment means we'll get the job done right and avoid future problems and expenses. From minor leak detection service to complete water damage restoration you can count on our quality service and timely response.
Moreno Valley Leak Detection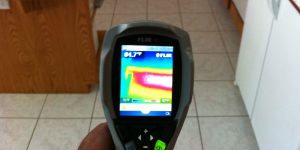 Here in Moreno Valley most water damage is from broken pipes, a leaking water heater, or a tub or toilet overflow. Fortunately it's very unlikely you'll ever need our flood damage services. But even a minor leak can lead to damage. Problems can set in quickly, and the longer you wait the more damage you'll have to deal with. So don't delay. For those larger leaks we're ready 24/7.
A water leak inside a wall or under the floor can be tough to identify. Yet you'll want to find its location without punching multiple holes. That why we use the latest electronic leak detection devices. We also employ thermal imaging to show us hot and cold spots that pinpoint a hot or cold water leak.

Water Damage Removal in Moreno Valley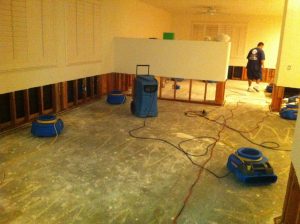 Regardless of whether it's from plumbing, a toilet or sewer line, a flood, or fire fighting immediate attention to water damage is critical. Our certified technicians with state of the art equipment stand ready 24 hours a day, 7 days a week.
Removing any standing water is just the first of many steps. Water quickly seeps down, creating hidden pockets of moisture. Untreated they can lead to mold and even structural problems. Cutting Edge strictly adheres to best practices for water damage removal, including the use of special dehumidification equipment for the fastest dry-out. We'll also deal with odor control, sanitation, and even carpeting cleaning.
We're certified by the Institute of Inspecting Cleaning and Restoration (IIRC), as well as the Cleaning and Restoration Association (CRA) for water damage removal, flood damage restoration, and fire damage repair.
Moreno Valley Flood Damage Restoration
Natural flooding adds even more to the mix. Pumping is often required to remove water from low areas, and by the time floodwaters subside there's often time for mold to get established. Our flood damage restoration services include mold remediation as well as dealing with any toxins that might have been in the floodwater.
SPECIAL NOTE: Whether from flood, plumbing, or fire, insurance companies require immediate mitigation by a licensed specialist. This protects them, as well as you, from unnecessary damage.
Fire Damage Repair for Moreno Valley
Even a minor fire can be downright traumatic, and remediation may seem overwhelming. Yet immediate action should be your top priority. Let Cutting Edge Construction be your single source to take care of all aspects of fire damage repair and restoration.
Besides the obvious and hidden damage of the fire itself, firefighting often results in water damage as well. Plus smoke, soot, and ash can find their way just about everywhere. They're corrosive, and can damage your carpet, furnishings, and possessions Furthermore, their odors can penetrate deeply. If not treated promptly and properly, the smell can linger for years.
Cutting Edge Construction's Moreno Valley services can cover everything, from initial assessment and securing your home to properly treating the building and its contents to construction renovation and hauling everything away.