24/7 Water Damage Restoration Services in Corona, California
Cutting Edge Restoration specializes in water damage removal & repair, fire damage restoration, leak detection, sewage damage, asbestos abatement, board-ups to property and emergency pack out's for all residents in Corona, California and surrounding areas. As our name states we use cutting edge equipment and employ skilled, trained and licensed contractors who are IICRC certified. We do all work in-house from electronic leak detection to complete reconstruction without using any subcontractors. We handle all phases of water damage restorations for homeowners and businesses in Corona. We work with your insurance company directly from start to finish to allow you to carry on with your daily life.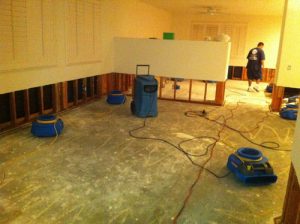 Water Damage Removal in Corona
When water damage occurs, time is of the essence. The greatest amount of damage occurs during the first couple of days that water is introduced to a room. Furthermore, mold growth begins a few hours during water damage. Expensive fixes can be avoid if water damage restoration is arranged quickly. Cutting Edge Restoration is one of the most reputable water damage removal and flood damage repair companies in Corona. We are an A+ rated Better Business Bureau (BBB) accredited business and are well spoken of throughout the community.

No Stress Water Damage Restoration
It is without saying that flood damage repair can be a stressful event. Even those who not easily shaken can become overwhelmed with a water damage emergency. Allow us to help you manage the restoration. Our staff and technicians are fully trained and have extensive experience in the successful organization and completion of damage restorations. We'll take care of everything from the major work to the minutest details.
Here is just some of the things we'll make sure is done:
Measure the amount of water damage and moisture using detectors, meters, and infrared cameras
Identify if power lines are affected by the water damage and notify emergency personnel if needed.
Secure important paperwork and documents that have been water damaged.
Develop an action plan that is specific to your water damage and building.
We Work With Your Insurance
In addition to the above items, we also can handle the details of the insurance claims process. Instead of being bothered with numerous calls and paperwork, we'll allow you to focus on taking care of your family. We regularly work insurers and prepare reports that are insurer friendly.
Cutting Edge has experience preparing claims for AAA Insurance, AIG, Allstate, Farmers, Geico, Liberty Mutual, MetLife, Nationwide, Progressive, Travelers and more.
Have questions?
Cutting Edge Construction is just a phone call away. We are available 24/7 to help you restore your place back to top condition. Cutting Edge Construction is certified by the (IICRC) and the Cleaning & Restoration Association (CRA). We have long served Corona and surrounding communities and are fully licensed and insured by the state of California.