Water Damage Removal and Restoration Services Carlsbad, California
Cutting Edge Restoration specializes in water damage removal & repair, fire damage restoration, leak detection, sewage damage and emergency pack out's for all residents in Carlsbad, California and surrounding areas. As our name states we use cutting edge equipment and skilled, trained and IICRCcertified technicians for mold and water clean-up. We are also licensed in California for General and Plumbing Contracting which allows us to do the job from start to finish all in one phone call.
Our certifications insurance and licensing allows us to do all work in-house from electronic leak detection to complete reconstruction. We handle all phases of water damage restorations for homeowners and businesses in Carlsbad, California. We work with your insurance company directly from start to finish allowing you to carry on with your daily life.
Even the best preparations can still leave a business or home in shambles after a disaster strikes. The influx of water or the burning flames of a strong fire can leave owners in disarray. Yet, this is where we act immediately and decisively. Cutting Edge Restoration is a proven specialist of water damage removal, flood damage repair, and water damage restoration. We provide 24/7 services to all residents and businesses throughout Carlsbad.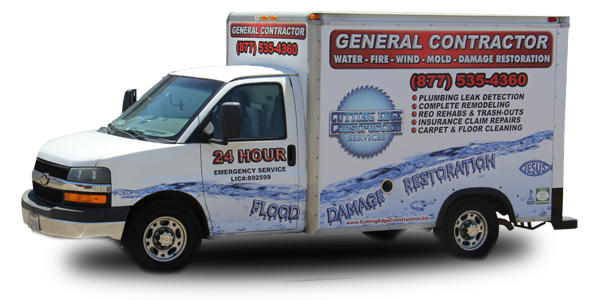 Flood Damage Repair in Carlsbad
Although water main breaks are responsible for some flooding, heavy storms and quick rainfalls are known to wreak havoc in San Diego County deserts. Carlsbad is definitely susceptible to flash flooding throughout the city. Once the flooding has receded, it is imperative to call for assistance with any flood damage that has occurred to your home or business. Doing so helps to reduce damages, improves chances of content restoration, and aids in mold remediation. On the other hand, negligence could result in expensive repair costs that are often avoidable.
Carlsbad Water Damage Removal
Water has a knack for getting in the tiniest and most obscure spots. Without the eye and instruments of a professional, it is nearly impossible to catch all the traces of moisture. Cutting Edge Restoration uses advanced technologies and methods to guarantee that all water is removed. All of our technicians are trained and having experience in using Electric and Thermal Imaging equipment. Even in times when water damaged materials need to be removed from your establishment; we perform comprehensive checks to ensure that all moisture is eliminated so that a mold problem does not occur.
Extensive Fire Damage Repair
Fires are difficult to recuperate from without a helping hand. Cutting Edge Restoration has a long history of assisting Carlsbad residents with the aftermath of fires. Our professional services handle everything that you can think of including triaging your establishment, sealing off the property for technician work and protection, sorting memoirs and salvageable materials, and acting as a liaison between you and you insurance provider. Fires can displace your for quite some time. So while you care for your family and immediate needs, we'll take care of the other business.
Re-Constructive Work
As we help you to restore your home from the damage incurred, it is often necessary to make extensive re-constructive repairs. Cutting Edge is a general contractor as well. We have a wide range of experience in performing well-designed repair s that will leave your home or business looking better than before. The Construction Field Manager will bring the showroom to your home or establishment to save you the hassle of going from store to store. We have cabinet, counter top, molding, flooring, and paint samples so that you can select the material to restore your home.
Call Cutting Edge Construction for a free water damage inspection in Carlsbad, CA.