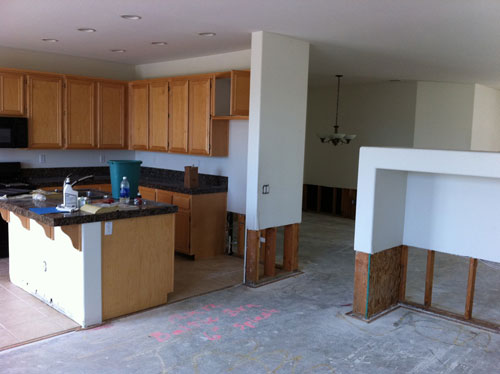 Every year, about one in 50 homeowners will file a water damage repair claim.
But as you can guess, your insurance plan may not cover all the damage repairs depending on the cause. And, the clock is ticking!
While you battle it out with your insurance and try to find a water damage restoration company, what can you do?
Keep reading for a guide on various types of damages caused by water. And get a jumpstart in the water damage repair process!
Working With Drywall Damage
Drywall is porous. Prolonged exposure to moisture, coupled with the warm climate of southern California, will cause mold quickly. If the damage is minor, you have the option of handling the drywall damage repair yourself.
Clean the area with a diluted bleach solution, even if there are no signs of bubbling or sagging around the area. It will kill the mold without causing more damage to your drywall.
Make sure everything in and around the area is completely dry before you cut and add a new piece.
Once the area is clean, drying, and a new piece of drywall is in place, you can prep the area for the paint to cover up any stains. Use a paint scraper or sandpaper to smooth the area, apply your primer, and paint.
Damage to Flooring
Over 9,000 homes are at risk of flood damage, mudslides, and/or sewer issues during the rainy season in San Diego.
And that's without factoring in a normal appliance leak or accidental overflow.
Stay ahead of the damage by knowing what to look for.
Hardwood, Vinyl, and Laminated Floors
Look for signs of buckling or cupping where the planks have raised edges. Or if the water has completely removed the planks from the floor.
If the flooring has bubbles or planks are rounded in a crown shape. Any discoloration or dark spots can be a sign of mold or mildew.
Tile Floors
Besides the list above, look out for any loose, moving tiles. Any cracked or discolored grout is also a sign of water damage.
Carpet
Keep your nose peeled for any odd odors. It's the clearest sign of mold or mildew.
You can fix the hardwood floor by replacing the damaged boards alone. But laminated and carpet floors will typically need a full floor replacement.
Ceiling
A small leak in your ceiling can turn into a full roof replacement in minutes. If you see the leak, the first step is damage control. Move any valuables out of the area, grab a bucket to collect the water, and any towels or tarps to protect your floor.
Keep an eye out for discoloration/staining on the ceiling or persistent musty smells. It means you have a leak in disguise!
Need a Water Damage Repair Team?
Cutting Edge Restoration Inc. is here to make your water damage repair woes disappear! They are ready to help with leak detection, water damage cleanup, insurance claim repairs, and more 24/7!
Call them or request a service to watch your water problems dry up in minutes!