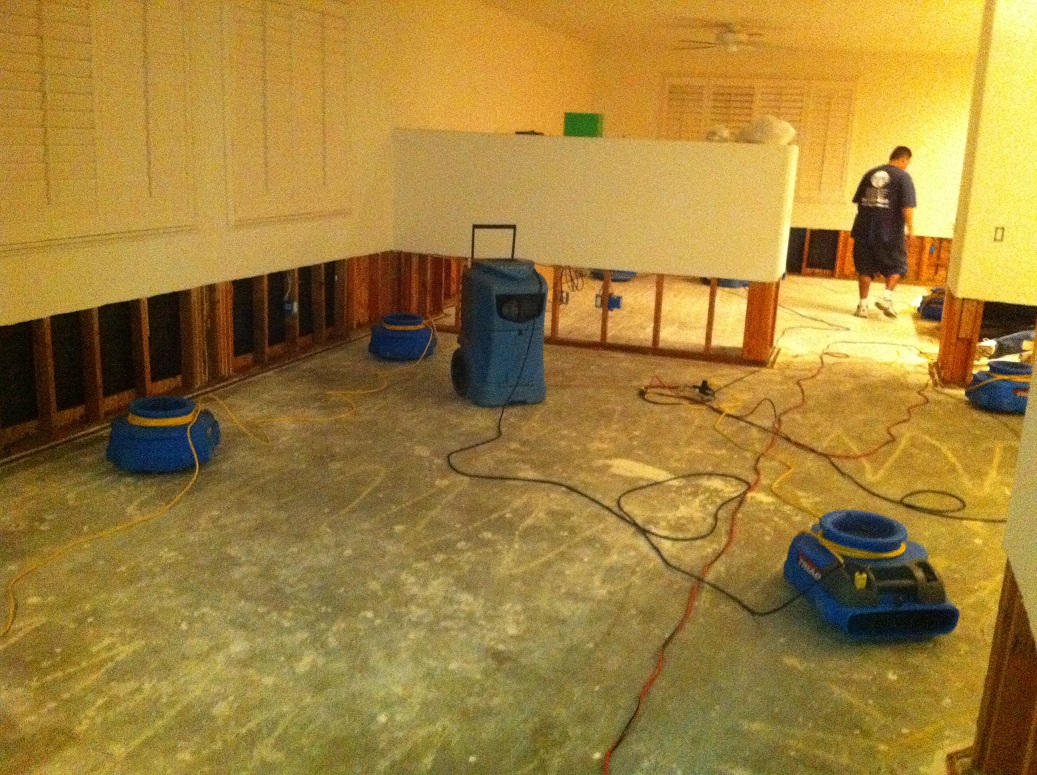 Professional water damage restoration companies use a standardized set of categories and classes when they assess flood damage and plan water damage removal strategies.  After going into this somewhat technical system we'll summarize what you need to know when selecting a water damage contractor.
Harmful water incidents can vary widely in scope and nature, from leaky plumbing to a big sewer backup and on to widespread natural flooding.  To help organize water damage restoration management and recovery, the IICRC (Institute of Inspection, Cleaning, and Restoration Certification) and other non-profit organizations have devised a classification system.  It combines categories based on the source and condition of the water with classes based on the extent of flooding, the materials affected, and other factors (http://www.iicrc.org/the-basics-water-damage-restoration-training-a-23.html).
Categories of Flooding
IICRC S-500 standards list three types of water conditions.
Category 1 comes from clean sources, essentially directly from drinking-quality plumbing.  But it can quickly develop microorganisms after being in contact with soil, carpet, or other flooring.
Category 2 (formerly "gray water") has become contaminated with bacteria, viruses, and/or fungi and poses health risks.  Sources include dishwashers, clothes washers, and urine-only toilet overflows.  Category 1 is typically re-classified as Category 2 if it remains for more than 24 to 48 hours. Worker protection is needed, and some materials such as carpet padding must be replaced.
Category 3 (formerly "black water") is a high-risk bio-hazard from the very start, or may be in this classification due to chemical toxins or simple exposure.  Sources include sewer backups, toilet overflows, and ground run-off from storms, natural flooding from rivers, steams, and livestock areas.  Extensive worker protection is required (including guarding against inhaled pathogens), materials such as carpeting and affected drywall must be replaced, and extensive disinfection measures bust be taken.
Categories of Destruction
Flooding assessment also divides the type of destruction into 3 classes.
Class 1 is affects only a small area with a minimal amount of liquid with little or no wet carpet. Little moisture remains and drying time is quick.
Class 2 involves an entire room (or more) and significant amounts of liquid.  Typically moisture has wicked upwards a foot or more into walls and penetrated into sub-flooring and structural framing.
Class 3 has saturated carpet, sub-flooring, and walls. Ceilings may be also be wet due to overhead sources.  After water extraction, extremely rapid evaporation (not achievable by ventilation alone) is required to remove deep moisture before it has time to cause serious deterioration,
Class 4 requires specialty drying as a great deal of moisture is trapped in even low porosity materials such as hardwood, plaster, concrete, bricks, or stonework.
Choosing the Right Professional Water Restoration Service
In addition to experience and training in water damage removal techniques, proper remediation also requires expert classification into the right category and class.  All this may sound complicated… and it is.  That's why whether from a storm, a burst washer hose, or whatever all incidents call for expert attention.  Flood damage removal, disinfecting, restoring furniture and possessions, and structural dry out all require specialist knowledge and extensive training.  So rather than continuing with technical details, lets consider what you need to know!
It's vital to act quickly — don't wait to hear back from your insurance company.  There's only a brief 1-2 day "window of opportunity" to prevent further destruction such as mold, crumbling sheet-rock, and even structural damage.  Report a loss to your insurer, but also immediately bring in an experienced company to begin water removal, mitigation, and restoration.  As just one example, if only clean water is involved carpet can often be rescued even after soaking for a day, but not much longer (https://en.wikipedia.org/wiki/Water_damage).
How do you know if they're qualified?
First, any home service company must be insured and properly licensed.  Don't be afraid or embarrassed to ask for proof.  Never go with just some guy that happens to show up with a truck!  Second, they should have technicians certified by the IICRC or CRA (Cleaning and Restoration Association).  Third, they should have all the right equipment.  A carpet cleaning machine and a bunch of fans simply don't cut it.  As a specific example, if you have hardwood floors they should have specialized hardwood floor dryers and/or the latest in water extraction equipment and refrigerant dehumidifiers.